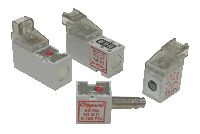 Standard Series
Direct-operating valves well-suited for single- or multiple-valve mounting in small spaces
10mm Latching Series
A short pulse of current shifts this valve which "latches"indefinitely; another pulse returns the valve.
10mm High Flow 2-Way Series
Specialty series for high flow applications.
10mm ISO 15218 Series
Conforms to ISO standard for mounting and port locations.
•  Multiple connectors
– Snap-in Plugs   – Wire Leads   – Custom Plugs   – DIN
•  LED for confirmation of operation is available
•  Diodes for current spike suppression and a power saving circuit is available
•  HIGHLY VISIBLE manual override provides valve actuation without power
•  High durability and corrosion-resistant glass filled nylon housing
•  FKM seals and Buna-N gasket (FKM available)
•  One-piece gasket for manifold mount
•  Encapsulated low wattage coils. Available in 12 VDC or 24 VDC. Special voltages available for OEMs
---