Clippard's next-generation DV Series valve is now available in a 2-Way proportional control version! The new DVP Series provides a high degree of control and customization. Available in manifold mount or #10-32 mounting styles, the DVP provides fast response times and exceptionally long life.
Technical Specifications: 
Valve Type: 2-Way, Proportional
Medium: Air & Compatible Gases (40 micron filter)
Pressure Range: Vac* to 100 psig
Max. Hysteresis: 10% of full current
Max. Flow Tolerance: ±10%, -0%
Power Consumption: 1.9 watts at 72˚F, 2.5 watts max.
Temperature Range: 32 to 120˚F
Voltage: 10 or 20 VDC
Mounting: Manifold, #10-32 Male Stud
Seal Material: FKM standard; Nitrile, EPDM & Silicone available
Wetted Materials: Stainless Steel, PPS
CE, RoHS Compliant
*Vacuum applications are reverse flow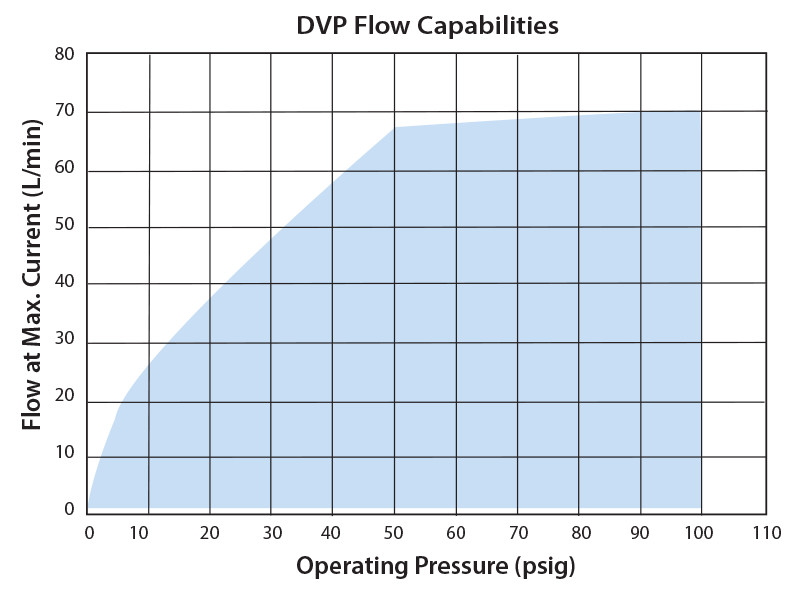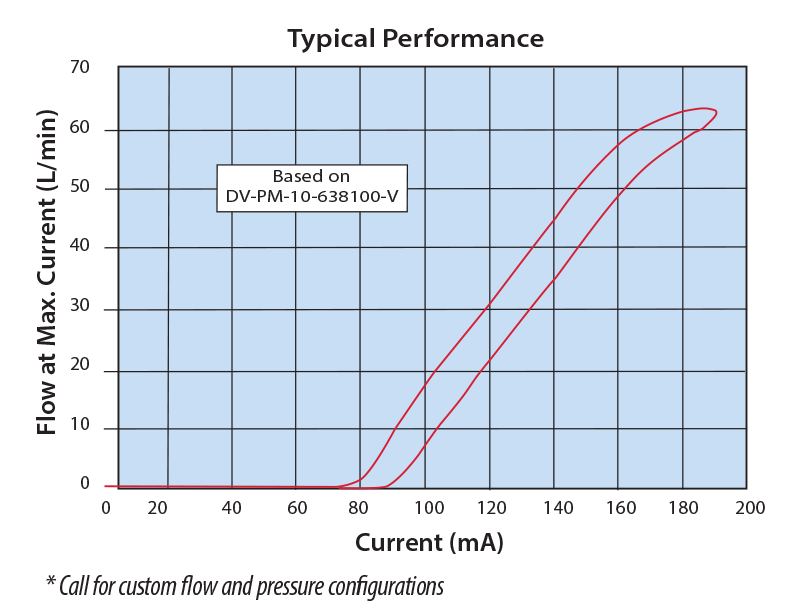 Clippard's newest DVP series proportional solenoid valves are precision-built 2-way control valves, utilizing Clippard's unique valving principle. This powerful series was designed as the next generation of Clippard's best-selling original EV line. With a lifespan of over a billion cycles; a solid, compact design; and extremely high flow rates, these valves are suitable for many applications across numerous industries.
The DVP series provides air or gas flow control and varies the output flow based on the current input to the solenoid. The consistent gain (see chart) of this valve provides a high degree of control.
Controllability and overall value are the main features of the DVP series. The valve may be controlled using DC current, open or closed-loop control, and even PWM (pulse width modulation) to cover a large range of applications.
EVPD Proportional Valve Driver – Plug-and-Play Control for Proportional Valves

The EVPD Proportional Valve Driver fast-tracks valve-control applications. This product is ideal for laboratories and OEM product development, and can be customized to fit OEM applications including control parameters. The EVPD produces driver current for Clippard's EVP series valves proportional to input control signals.

• Linearized valve response right "out of the box"
• Three selectable valve output ranges
• Five signal inputs to choose from
• Easy integration with existing machine controls
• User-adjustable parameters
• Automatic Temperature Compensation to maintain constant current
• Two configuration options: stand-alone PCB or enclosed in housing
• Compact size
 Go to Clippard EVP Proportional Valves